We have achieved satisfactory sales results not only in Japan but also in the U.S. and Canada. Europe is the most promising area for opening up a new market in this field.
CE Marking
The completion of the MT-X1, a type of machine suitable for CE Marketing, could make its way to the European markets in August, 2002. We expect more and more sales in those areas.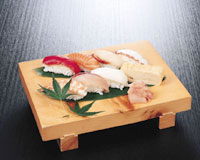 Sushi, one of the Japanese food cultures, became very popular as Sushi Bar in America.
Oshibori is now an important part of the services at Sushi Bar. It is safe to say Oshibori service is indispensable to clean one hands or face, and make one feel refreshed before eating. We believe Oshibori service is very effective even when serving dishes other than Japanese, such as British, French, Italian and etc.